April 29, 2015
Here is what is trending on Jamaicansmusic.com right now.
---
THE LASTEST NEWS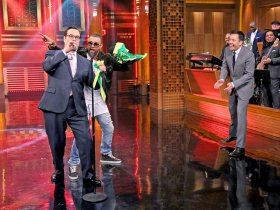 On Thursday, April 23, Shaggy glided on the stage of The Tonight Show with Jimmy Fallon for a night filled with a 'Shaggy Off' with Human spirit animal Steve Higgins and an interesting tale of the inception of his 2000 hit single 'It Wasn't
---
---
---
NEXT UPCOMING EVENT
Come Back to www.jamaicansmusic.com
---
Click to Unsubscribe
Please do not reply directly to this email
You are receiving this email because you subscribed to receive promotional emails on Jamaicansmusic.
CONTACT US
Please do not reply to this email as we are not able to respond to message sent to this email address. To contact us or send feedback, please click here.