January 25, 2017
Here is what is trending on Jamaicansmusic.com right now.
---
THE LASTEST NEWS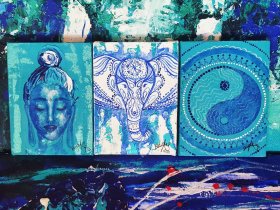 Dip your hands into the foreverness of Amanda Mitchell's mind. "I put colour to canvas and see where it takes me that particular day. I have a vague initial idea in my head, of how I want it to look, other than that my mind empties and I go
---
NEXT UPCOMING EVENT
Come Back to www.jamaicansmusic.com
---
Click to Unsubscribe
Please do not reply directly to this email
You are receiving this email because you subscribed to receive promotional emails on Jamaicansmusic.
CONTACT US
Please do not reply to this email as we are not able to respond to message sent to this email address. To contact us or send feedback, please click here.