JAmusic: As a creative individual, you have to be faithful to your own vision, to art and self-expression. Have you ever been faced with a situation where your artistic morality was challenged? If so, how did you handle it?
AM: Art is meant to evoke emotion – some artists aim to extract a reaction whether it be good or bad as long as it's a reaction. I am only interested in creating positive feelings towards any piece of work I put out into the world. Once something is said, done or seen, it can't be taken back. My artistic morality has never been challenged, however, if I was asked to create a piece that went against what I believed in, I would simply politely refuse.
JAmusic: What would you say has been the most challenging part of making a name for yourself in your field?
AM: My efforts are focused on putting out great work and making my clients happy, once I've made good on that everything else follows. I wouldn't say it's been challenging but more exciting to see efforts pay off and opportunities unfold.
JAmusic: Your work appears to draw from several influences and theme ranging from love to Buddhism. Could you speak a bit on this; the premise of your art pieces? The ideology behind it all.
AM: Inspiration is drawn from the motions of life, and the journey of self-discovery. I've taken particular interest in symbolic elements such as the silent strength of an elephant and the spirituality of the enlightened Buddha - the flow of energy which comes from positive thinking. In fact, all symbols of good fortune are relevant. I paint what I want to manifest in life. It's all about frequencies of love.
JAmusic: What inspires you on a daily basis to do the work that you do?
AM: The integral work of an artist is to give of themselves through their art. When I present someone with a painting, I'm handing over a piece of myself, how excited and happy my art makes them gives me reason and purpose to continue …as well as I just love painting and the fact that I can use it to create good feelings is fabulous.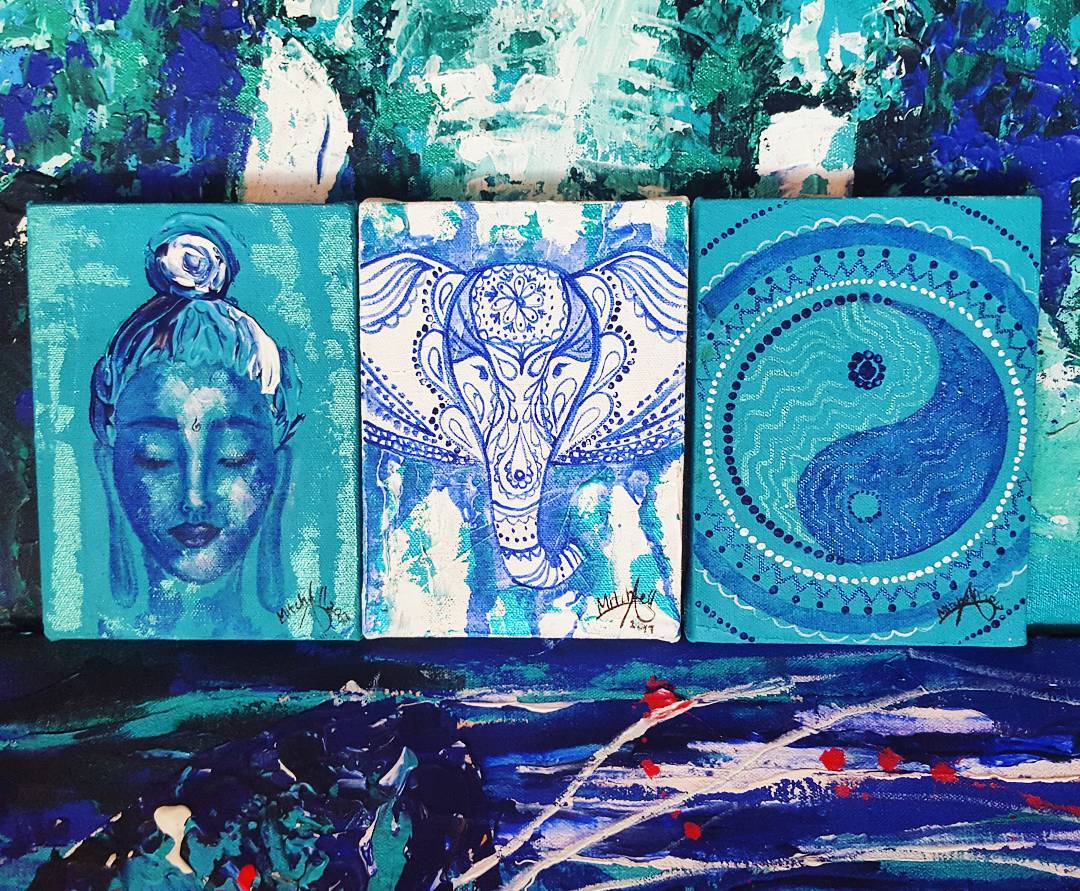 JAmusic: What is the creative process like that you take in order to bring your work from an idea to actuality?
AM: I put color to canvas and see where it takes me that particular day. I have a vague initial idea in my head, of how I want it to look, other than that my mind empties and I go wherever the spirit takes me, it's purely based off feeling and intuition. Very artsy fartsy.
JAmusic: There are varying views dictating what constitutes as "creative." For some, it's important that an artist has an underlying message. What message do you hope to communicate to your audience?
AM: Walk good. Stay on positive vibrations. Love yo'self. Live in the now.
JAmusic: What is one project you are most proud of and why this particular one?
AM: In 6th form at Immaculate for our CAPE SBA we had to paint a mural. It was my first time really working with acrylic at such a large scale, It was the first time I thought to myself that I could do this every day. I had a cheesy moment.
JAmusic: What can we next expect from Amanda Mitchell?
AM: It is an unsolved mystery.
JAmusic: How do you view the present state of the artistic industry?
AM: I think it is evolving, a lot of upcoming artists are redefining what is considered traditional Jamaican art and putting their own unique twist on it. I'm excited to see what happens next.
JAmusic: What would you say is the purpose of your artistic journey?
AM: Finding myself through the happiness others